Accommodation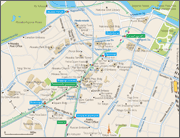 UQCC2010 will take place in Akasaka of Tokyo. Akasaka is located in the heart of Tokyo and is an ideal location for business and leisure travelers alike. It is a short walk away from being able to enjoy the excitement of the Kasumigaseki, Ginza, and Roppongi areas. The Tokyo Tower and the Imperial Palace are also nearby.
→ Map to the Hotels (PDF file 102KB)
Hotels

JPY20,000 ∼
Hotels

JPY9,500 ∼ 20,000
All above information is as of June, 2010. The rates shown above are based on one person's stay per room.
The rates and availability of the hotel rooms are not guaranteed. We encourage you to book your accommodation early, well in advance of your arrival.